ACNW Maryhill Loops Road Tour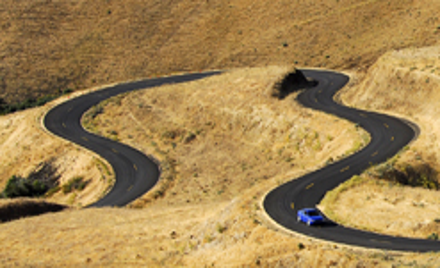 Audi Club NA - Northwest Chapter
Saturday, September 12, 2020
Maryhill Loops Road
,
Goldendale

,

WA
Registration closed August 29, 2020 11:59 PM on August 29, 2020 11:59 PM PDT Registration ends August 29, 2020 11:59 PM on August 29, 2020 11:59 PM PDT Registration opens July 22, 2020 6:00 PM on July 22, 2020 6:00 PM PDT Registration runs from July 22, 2020 6:00 PM to August 29, 2020 11:59 PM
Audi Club Northwest is excited to host the 13th annual Maryhill Loops Road Tour on Saturday, September 12, 2020.
The Maryhill Loops Road Tour is your chance to drive your car on the first macadam asphalt paved road in the Pacific Northwest! Owned by the Maryhill Museum of Art, it is generally only open to pedestrians and bicyclists (or crazy skateboarders!), but on Saturday, September 12th, ACNW has private use of the road. Over 2.8 miles and 25 curves (8 hairpins) the road rises 850 feet to its highest point. The drive on the Maryhill Loops Road is a tour so no helmets are required (or allowed), convertibles are allowed, and passengers are allowed and encouraged to come along for the fun!
On Saturday we will tour the Maryhill Loops Road beginning with a drivers meeting at 8:30 am. We limit the number of drivers at this event to ensure a great experience for all! Because the event is so fun and we limit entries, the event will sell out quickly so be prepared to sign up right when registration opens! A waitlist will be used if the event reaches capacity, in the event that space becomes available later. We have let people into the event off of the waitlist in the past, so it is worthwhile to register even if the event is being waitlisted.
We have made changes to this event in 2020 in order to implement COVID-19 prevention measures. Please read this information carefully, as it is very different from previous years. We are structuring the event as follows:
This is a driving tour of the Maryhill Loops Road only, there will be no group dinner on Friday night and no wine tasting or catered dinner on Saturday night.

The club will not arrange a hotel room block at a discount.

In order to limit the number of people present to 50 and provide more space in the parking area, the number of drivers has been limited to 30.

All attendees including drivers, staff, volunteers and guests will be required to register for the event in MotorsportReg.com in order to facilitate electronic signing of the event waivers.

Only guests that arrive with you and reside with you in your household will be allowed to ride in your car with you on the Loops Road.

The club is planning to provide a boxed lunch with your registration, but you must bring your own water or soda.

You must bring your own personal protection equipment (PPE). This includes a cloth or disposable mask that covers your nose and mouth, and sanitizing sprays/wipes. You must wear your mask unless you are in your car, or in your immediate parking area.

You must stay close to your parking space when you are not driving on the Loops Road, and exercise social distancing when moving throughout the parking area to check in or use the porta-potties.
Each person who wants to drive on the Maryhill Loops Road on Saturday must complete their own registration. Drivers will be divided into two groups that will alternate driving on the loops road. If you are sharing a car, you and the other registered driver will be assigned to different groups so that you may each have the opportunity to drive the maximum number of times on the loops road.
New in 2020: Each guest you bring must also complete their own registration. Family and friends that reside with you in your household are welcome to come along and ride with you on the Loops Road. In order to facilitate electronic signing of waivers, every person on site must be pre-registered so they can receive the email with a link to the online waivers.
Audi Club North America (ACNA) membership is required for this event.  Drivers who are not yet members, or who need to renew an existing membership, may handle that using the Audi Club North America website (https://audiclubna.org/join-2/).
As in years prior to 2019, New will be the default 'status' upon signing up. If the limited number of driver spots reaches capacity, Waitlist New will be the default 'status' upon signing up for a driver spot. When your registration is fully accepted, the status will be changed to Confirmed. During processing, we will continue to use On Hold for registrations where something is not quite right (expired membership, question on vehicle suitability), and Waitlist Confirmed for registrations that are otherwise 'ready to go' and are simply waiting on capacity of the event.
Note: When meals are a part of our events, ACNW will attempt to accommodate special dietary requirements if requested. However, meals are provided by third parties and circumstances may not always enable ACNW or its vendors to meet every special dietary need.
Note: ACNW reserves the right to cancel this event if we are not able to meet ACNA, state and local mandates that are effective on September 12th pertaining to the Coronavirus.
If you have any questions about this event please contact the Event Master Carrie Stewart at stewart.carrie@comcast.net or 206-930-2262.